A show by members of the Raspberry Pi community
---

11th April 2016
The Pi Podcast #19 – Dexter Industries
News
New DietPi functionality (EmonPi & Tor Hotspot)
Raspberry Pi-Powered DIY Amazon Echo (github link for Alexa)
LCARS touchscreen interface for your Raspberry Pi
Ubuntu MATE 16.04 has working Bluetooth and Wifi work on the Raspberry Pi 3
Raspberry Pi for Lovely Retro Gaming
Picademy: New dates announced! (dates and location) (Link to Picademy Newcastle application)
We spoke to Les Pounder about Picademy on Episode #5
Albert made a video showing Minetest running

Dexter Industries
John Cole is the founder and CEO of Dexter Industries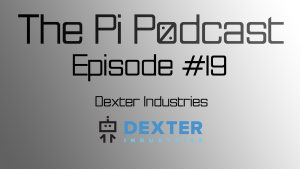 You can subscribe to the show on iTunes, Stitcher, YouTube or find the RSS feed on our site.
If you want to get in contact you can email show@, find us on Twitter or Facebook or leave a comment below. Thanks for listening.
---
3 comments
Comments are now closed.