A show by members of the Raspberry Pi community
---

14th October 2015
The Pi Podcast #5 – Les Pounder (Picademy)
News
Squeezing Jessie onto a 4GB SD card
PiHut are selling the B+ (Not 2) for £22.00 including shipping in Clearance Sale.
Lego Raspberry Pi Microscope which uses the Waveshare camera
Raspberry Pi night vision goggles
Les Pounder
Les Pounder is a freelance author and Certified Raspberry Pi Educator. He is involved with Picademy and is one of the main organisers of OggCamp.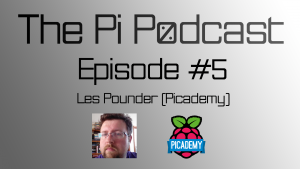 You can subscribe to the show on iTunes, Stitcher, YouTube or find the RSS feed on our site.
If you want to get in contact you can email show@, find us on Twitter or Facebook or leave a comment below. Thanks for listening.
---
3 comments
KyRol 25th October 2015 - 23:07

You do really good job, interesting news as well as reviews. Keep inform us about relatively cheap and fascinating hardware add-ons especially made by 3rd parties. The only one question is why you do not share the podcasts in flac or ogv? Why you enforces users to use only one, proprietary file format? Another question is why you do afraid criticism? In fact from episode to episode is better in these terms but form me m$ appearance on RPi2 is not as good as you spoke about it. As for me it's pure bloatware. Why? Maybe I explain in the comment in right place.

I hope that topics will not relay only on official RPI Foundation announcements. Be creative, find interesting people and projects not spoken at the officiall page.

Besides of that I'm interested about Wayland and hardware accelerated web browser on the Pi. Hope I hear some reviews with authorities beyond these projects. Very interesting topic is also related with WebRTC on the Pi. I'm awaiting for interview with someone standing beyond Seafile. More ideas I will post soon.

Albert 26th October 2015 - 14:26

Thank you for your feedback. Glad you like it when we give details on products available that work with the Raspberry Pi.
Our goal is to represent the Education goal of the Raspberry Pi as well as bringing you the best from the Makers community. So, if you know of great makers doing interesting things with the Raspberry Pi please get them to contact us and we can look to include them in the news and where the project would have broad appeal potentially arrange an interview. The initial interviews are designed as a foundation (no pun intended) to set the expectation for the Raspberry Pi and to give context for future interviews. The expectation is that during 2016 the interviews will be increasingly with Raspberry Pi practitioners and less with the core people.

We use mp3 as it's the format supported by all media players enabling as many people as possible to listen without difficulty.

Microsoft Windows 10 IoT is an option for people who wish to use it and is not a requirement for any users of the Raspberry Pi.
Comments are now closed.