A show by members of the Raspberry Pi community
---

26th November 2015
The Pi Podcast #9 – Raspberry Pi Zero Special
News
The huge news today was the announcement of the $5 Raspberry Pi Zero. We thought it was important enough to spend a whole show talking about it, despite the fact that we released episode #8 yesterday.
We also spoke about the newly released Raspbian Lite.
A few of the things that came up on the show:
Raspi.TV the list of other Raspberry Pi models
Raspi.TV blog and video announcement of the Pi Zero
The Raspberry Pi Guy video announcement of the Pi Zero
The MagPi Issue 40 – loads of articles on how to make the most of the Pi Zero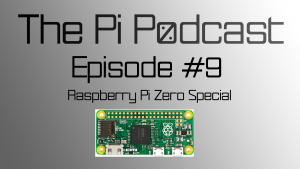 You can subscribe to the show on iTunes, Stitcher, YouTube or find the RSS feed on our site.
If you want to get in contact you can email show@, find us on Twitter or Facebook or leave a comment below. Thanks for listening.
---
2 comments
Comments are now closed.