A show by members of the Raspberry Pi community
---

11th November 2015
The Pi Podcast #7 – Russell Barnes (The MagPi)
News
Code Club joins up with Raspberry Pi Foundation
Barnes & Noble doing Mini Maker Faire events with Raspberry Pi in store
Pi sales averaging over 55,000 a week.
Learn to Conquer the Command Line.
Russell Barnes
Russell Barnes is the managing editor of the official Raspberry Pi magazine called The MagPi.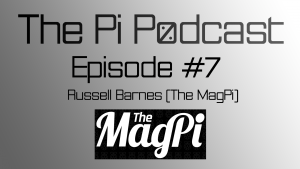 You can subscribe to the show on iTunes, Stitcher, YouTube or find the RSS feed on our site.
If you want to get in contact you can email show@, find us on Twitter or Facebook or leave a comment below. Thanks for listening.
---
2 comments
Comments are now closed.