A show by members of the Raspberry Pi community
---

30th September 2015
The Pi Podcast #4 – Tim Rowledge (Scratch)
News
Only one news story this time but it's a big one:
New Release of Raspbian based on Debian Jessie
Tim Rowledge
Tim Rowledge is a long time ARM and RISC OS user and does development for Scratch in Smalltalk.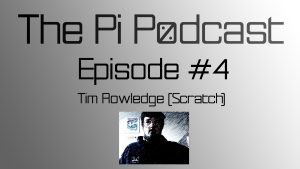 You can subscribe to the show on iTunes, Stitcher, YouTube or find the RSS feed on our site.
If you want to get in contact you can email show@, find us on Twitter or Facebook or leave a comment below. Thanks for listening.
---
3 comments
Torsten Bergmann 30th September 2015 - 20:09

You can play with Squeak by downloading it from Squeak.org. I would recommend to also have a look at a more professional looking and cleaned Squeak like Smalltalk alternative called Pharo (http://www.pharo.org). It is free and open source as well and started as a fork of Squeak a few years ago and has a strong community. It has many projects, frameworks, good documentation and books (see books.pharo.org and http://pharo.pharocloud.com/pharobooks).

Pharo also runs also bit identical on all platforms including the Pi as this video proves:

https://www.youtube.com/watch?v=sfxFqQIuawg

There is even a Scratch like version called "Phratch" for Pharo which is available at http://www.phratch.com/.

Isaac 30th September 2015 - 22:23

Thanks for the comment and links Torsten. I'll definitely give Pharo a look over and see if we can't discuss more about it on the another episode. From what I can tell, it looks very interesting. I like that it's a language and an environment rolled into one. Thanks for the heads up.
Comments are now closed.