A show by members of the Raspberry Pi community
---

20th June 2016
The Pi Podcast #25 – Sway Grantham
News
Raspberry Pi maker Premier Farnell sold to Dätwyler for £792m
Raspberry Pi pioneer gets birthday honour
A new high altitude ballooning record
UK astronaut Tim Peake returns to Earth
Astro-Pi data made public so it can be analysed
This episode of The Pi Podcast is sponsored by myDevices Cayenne
Jumpstart Raspberry Pi Projects and accelerate development with Cayenne's drag-and-drop IoT project builder.
Sign up for FREE at http://bit.do/cayenne
Sway Grantham
Sway Grantham is a primary school teacher and Specialist Leader of Education for Computing. Check out her blog to find out more.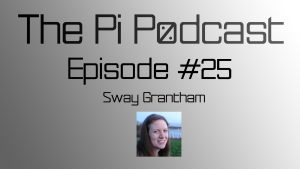 You can subscribe to the show on iTunes, Stitcher, YouTube or find the RSS feed on our site.
If you want to get in contact you can email show@, find us on Twitter or Facebook or leave a comment below. Thanks for listening.
---
One comment