A show by members of the Raspberry Pi community
---

16th May 2016
The Pi Podcast #22 – Eben Upton
Podcast: Play in new window | Download
The Pi Podcast #22 – Eben Upton

The Pi Podcast is a show by members of the Raspberry Pi community for the Raspberry Pi community.
Eben Upton
In this special episode we caught up with Eben Upton from the Raspberry Pi Foundation. We spoke to him about the new Raspberry Pi Zero which includes a camera connector, what's been happening since the launch of the Pi 3, the new camera modules, improvements with Bluetooth and a lot more besides.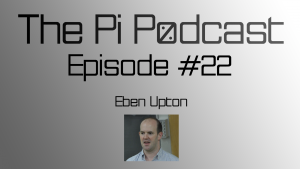 You can subscribe to the show on iTunes, Stitcher, YouTube or find the RSS feed on our site.

If you want to get in contact you can email show@, find us on Twitter or Facebook or leave a comment below. Thanks for listening.

Comments are now closed.