A show by members of the Raspberry Pi community
---

28th March 2016
The Pi Podcast #18 – DietPi
News
Raspberry Pi Creative Technologists New Works Exhibition (Back on Episode 15 we spoke to Andrew Mulholland about this.)
Raspbian Linux and NOOBS distributions updated
Swedish student builds steam-powered Raspberry Pi
Raspberry Pi Oracle Weather Stations shipped
Tip: Check out the Resources section on the Raspberry Pi site
DietPi
DietPi is a Debian based distro for the Raspberry Pi that describes itself as "Lightweight justice for your single-board computer." We spoke to its creator Dan Knight about it.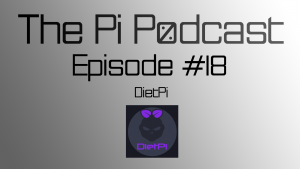 You can subscribe to the show on iTunes, Stitcher, YouTube or find the RSS feed on our site.
If you want to get in contact you can email show@, find us on Twitter or Facebook or leave a comment below. Thanks for listening.
---
One comment