A show by members of the Raspberry Pi community
---

8th February 2016
The Pi Podcast #14 – Andy Stanford-Clark
News
Astro Pi update. Ed and Izzy are live and there is a new coding challenge
Raspberry Pi Zero Cluster – Foundation donated the 15 needed for it to be completed. – May be crowdfunded
Sonic-Pi – Daft Punk Aerodynamic – Sébastien Rannou
Still some tickets for the Sunday of the 4th Birthday Bash.
RetroPie 3.5 has been released
Beep Beep Yarr (Interview on Linux Luddites) (Linux Voice)
Andy Stanford-Clark
Andy Stanford-Clark is IBM Distinguished Engineer for the Internet of Things. He has a website and he's @andysc on Twitter.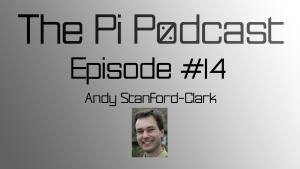 You can subscribe to the show on iTunes, Stitcher, YouTube or find the RSS feed on our site.
If you want to get in contact you can email show@, find us on Twitter or Facebook or leave a comment below. Thanks for listening.
---
One comment
Comments are now closed.