A show by members of the Raspberry Pi community
---

6th January 2016
The Pi Podcast #12 – Alex Eames (RaspiTV)
News
The MagPi with PiZero has come out in the US. Supplies of PiZero are still very limited.
Latest MagPi Magazine is all about Minecraft mashups
ROKOS Is A Free Raspberry Pi Operating System To Launch A Bitcoin Node
SmartiPi Touch: A Raspberry Pi Touch stand
Alex Eames (RaspiTV)
Alex Eames makes videos at RasPi.TV and makes products for the Raspberry Pi at RasP.iO.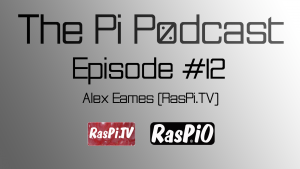 You can subscribe to the show on iTunes, Stitcher, YouTube or find the RSS feed on our site.
If you want to get in contact you can email show@, find us on Twitter or Facebook or leave a comment below. Thanks for listening.
---
One comment
Comments are now closed.