A show by members of the Raspberry Pi community
---

19th August 2015
The Pi Podcast #1 – Ubuntu MATE
The Pi Podcast #1 – Ubuntu MATE
A new podcast is born! Brought to you by Joe Ressington, Isaac Carter and Albert Hickey, The Pi Podcast is a show by members of the Raspberry Pi community for the Raspberry Pi community.
News
Oxford Flood Network uses Raspberry Pis to detect rising water
The MagPi is officially being printed and available at select stores
Mycroft (Check out Episode 105 of Linux Unplugged if you want to learn more)
Ubuntu MATE

We spoke to Martin Wimpress who is the lead developer of Ubuntu MATE. He joins us to talk about a serious alternative to Raspbian as a fully fledged desktop operating system for the Raspberry Pi 2. You can download the image for the Pi 2 it here. During the interview Albert mentioned a video from the Cambridge Raspberry Jam.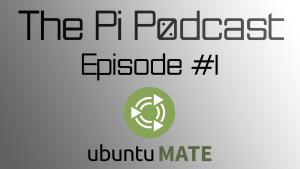 If you want to get in contact you can email show@, find us on Twitter or Facebook or leave a comment below. Thanks for listening.
---
14 comments
Alex 24th August 2015 - 18:50

Came here from watching Linux Luddites and some of the Joe Ress podcast

thanks for putting this podcast together! I think it fills a space in the linux podcast market 🙂

Isaac 24th August 2015 - 19:25

You are more then welcome Alex and thanks also for the comment. Glad to hear that you enjoyed the first episode.

Vim Toutenhoofd 28th August 2015 - 03:11

I tried to subscribe to your podcast on my iPhone 5. Therefore I searched for a text entry window in which to enter: http://feeds.feedburner.com/ThePiPodcast, but did not succeed in finding such a window. What should I do to subscribe?

Albert 28th August 2015 - 08:50

Vim,
It is in the iTunes store. If you use your favourite Podcast app that supports the iTunes store and search for The Pi Podcast it should come up.
That's what I'm doing on my iPhone with the Apple podcast app.

Vim Toutenhoofd 28th August 2015 - 21:59

Your suggestion 'worked'. I'm an iPhone newbe and had tried to find the podcast in the App Store. It had not occurred to me to search for it in the iTunes Store. Thanks! Vim

Atoms 31st August 2015 - 23:08

Great first show! I was dreaming of Mint when the question came up. You read my mind. Did you do it with a Pi? Thanks and Subscribed!

Isaac 2nd September 2015 - 03:17

You are very welcome and thanks Atoms! Haven't tried it yet with Mint. I talked to the Mint team about it some, which lead to me reading more about Snappy Core. Which is what Martin said to look into as well. Give or take how easy it is to build my own image with Snappy Core, I might create a Mint-like image for the Pi. I'll definitely keep listeners informed of how my efforts go with Snappy Core.

Pingback: S08E26 – Courageous | Ubuntu Podcast

KyRol 25th October 2015 - 23:47

w10iot is not so holy as described in the podcast. First – it's fine IF RPi Foundation received donation because of that. But the other side is fact that now is more and more noise about of this, is risk that Open Source on the Pi will become something that will be in 2nd category. With release of Debian Jessie you finally discovered that Raspbian is not compact anymore, but there is other bad opportunity – those who do not wish to deal with proprietary software can not avoid it in the main, officially supported distro. Behind this covers proprietary licensing issues – I personally avoid such stuff. I know that education do not involve so much into that and have another priorities but have you forgotten about TTIP? I wish I could be wrong here but today is more and more to afraid about it.

Beside of this you did not spoken that w10iot is rather meant for only those who is involved with m$ already. Very simple and basic hardware add-ons are not supported at all – you have to write drivers on your on from scratch. Moreover everything is totally unstable and RPi2 is required with standard PC in order to work.

KyRol 26th October 2015 - 00:02

Another cons are rumours about w10iot on the PiCademy. If w10iot will be there – it's very, very bad. Today is many teachers with totally bad mentality, so when they discover win on the RPi2 then will used to teach only about win on the Pi… In my opinion – if m$ prepared on it's own what's prepared then should it maintain ON IT'S OWN what prepared. Shouldn't be so simple as that?

Where is RPi Foundation who spoke about Open Source as it's main focus? No funds or even ideas in terms how to run Android on the RPi which exists as AOSP but time and resources for promoting proprietary solutions was found. Sad, very sad. And I spoke about it as FLOSS enthusiast.

Joe C. Hecht 30th October 2015 - 14:39

The Pi Podcast #1: "I don't know why you would want to code in C++ for the Raspberry Pi"??? But ya got NodeJS??

WTF??? Perhaps… Because code compiled in C runs *DAMN FAST!*

You complain about things being slow… and that your little 8 GB sd cards are overfilling…

If more people coded in C, things just might be faster (and smaller too).

And lets not forget about Free Pascal and it's excellent visual IDE "Lazarus". Fast. Damn Fast. While Lazarus is perhaps a bit goofy to get installed, it rocks.

I don't know what to say about your 8GB SD cards. Personally, I have been throwing them out. Fork out a $20, and move up to something with a little more room.

Finally, Windows 10 on a Raspberry Pi? For families? Dude, have you actually tried it?

It's pretty nice boot screen. I'm reminded of the smoke and mirror tricks used back in the Windows 0.2 beta to show they had something. In the end, you will probably get something akin to Windows RT for the PI, (minus almost everything). Better get your Visual Studio install sharpened up and get coding if you want to see something happen.

Sorry, the email is a bitbucket. I be at G+, or though the email gateway at the website,
Comments are now closed.