The Pi Podcast #13 – RetroPie
Podcast: Play in new window | Download
The Pi Podcast #13 – RetroPie

The Pi Podcast is a show by members of the Raspberry Pi community for the Raspberry Pi community.
News
Raspberry Picademy USA dates and location announced
Tiny Core Linux 7.0 available for the Raspberry Pi
The Raspberry Pi Foundation are hiring
PiZero being manufactured in Wales – should be more available soon.
UK BETT – Raspberry Pi and Code Club out in force.
Sam Aaron presented on the big stage about SonicPi – video interview
RetroPie
RetroPie is distro for the Raspberry Pi that contains emulators for all sorts of classic gaming systems.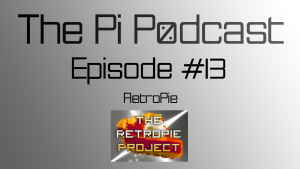 You can subscribe to the show on iTunes, Stitcher, YouTube or find the RSS feed on our site.
If you want to get in contact you can email show@, find us on Twitter or Facebook or leave a comment below. Thanks for listening.